8 Arizona Backyard Ideas With Pool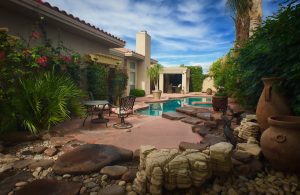 How can you take your pool area to the next level? Well, if you are searching for "
arizona backyard ideas with pool
", we've got a few suggestions for you!
Best Backyard Pool Ideas
This article will cover these backyard pool ideas to create a beautiful area for your family:
Poolside Seating
Surround Pool With Rocks
Build Structures 
Add Shade
Cacti
Brighten Area With Flowers
Raised Bed
Artificial Grass/Turf

1. Poolside Seating
Adding a pool to your backyard is about more than just swimming. A well-furnished seating area creates a comfortable and luxurious atmosphere for all those enjoying the pool. A large seating area can make for hosting neighborhood events and gatherings or simply a relaxing weekend day with the family.
2. Surround Pool With Rocks
Rock features built into the pool or pool area can be an expensive option at times. Luckily for Arizona homeowners, there is another way to implement this classy look. You can simply purchase rocks or boulders and neatly place them around the water. Smaller rocks nestled against flowers or even
large boulders
outlining the pool can be aesthetically pleasing for all.
3. Build Structures
Both pergolas and
trellises
are great ways to increase vertical interest in the backyard surrounding the water. Additionally, this is one of the best ways to incorporate much-needed shade into the area. Protect yourself from the Arizona sun and give yourself some privacy from neighbors with these structures.
4. Add Shade
While the pool itself will help you deal with the extreme summer weather, it never hurts to
add more shade
to the backyard. Shade needs to be a priority for any homeowner in the valley of the sun. Of course, try to choose trees or shrubs that either complement or add to the unique look of your yard. Adding trees that keep shedding to a minimum is recommended.

5. Cacti
Arizona backyard landscaping is not complete without cacti and succulents. Cacti can even be coupled with any sort of rocks added to the property. Consider size whenever you are shopping for succulents. Do you want several smaller plants or just a few large ones? Either way, this will spruce up your backyard landscaping.
6. Brighten Area With Flowers
Annuals and perennials are a great way to spruce up any
area
, especially when surrounding your backyard pool. Flowers will add more than enough color to area. Always check with
the professionals
for suggestions on which flowers will grow best near a saltwater or chlorine pool.
7. Raised Bed
In-ground horizontal pools always need some
height
. One of the best pool deck landscaping additions is a raised bed around the water. This is a great way for your pool to attract the
attention
it deserves.
8. Artificial Grass/Turf
Maintaining a green turf in the harsh
Arizona climate
can be next to impossible. But, don't let that stop you from laying down some artificial turf in your
backyard
. Water always looks great next to green grass. Plus, there is no limit to what you can add/build on top of the turf once it is installed.

Pool Filter Service In Gilbert, AZ
Pool Service Gilbert
is a family-owned and operated business that has been serving the valley since 2004. We offer reliable and affordable pool services, including repairs,
replacement
,
equipment installations
and more! Our service area includes Ahwatukee, Chandler, Gilbert, Mesa, Phoenix and Tempe, Arizona.
Contact us right here
for your upcoming pool service needs! Call us at
480-748-3022
for more information.