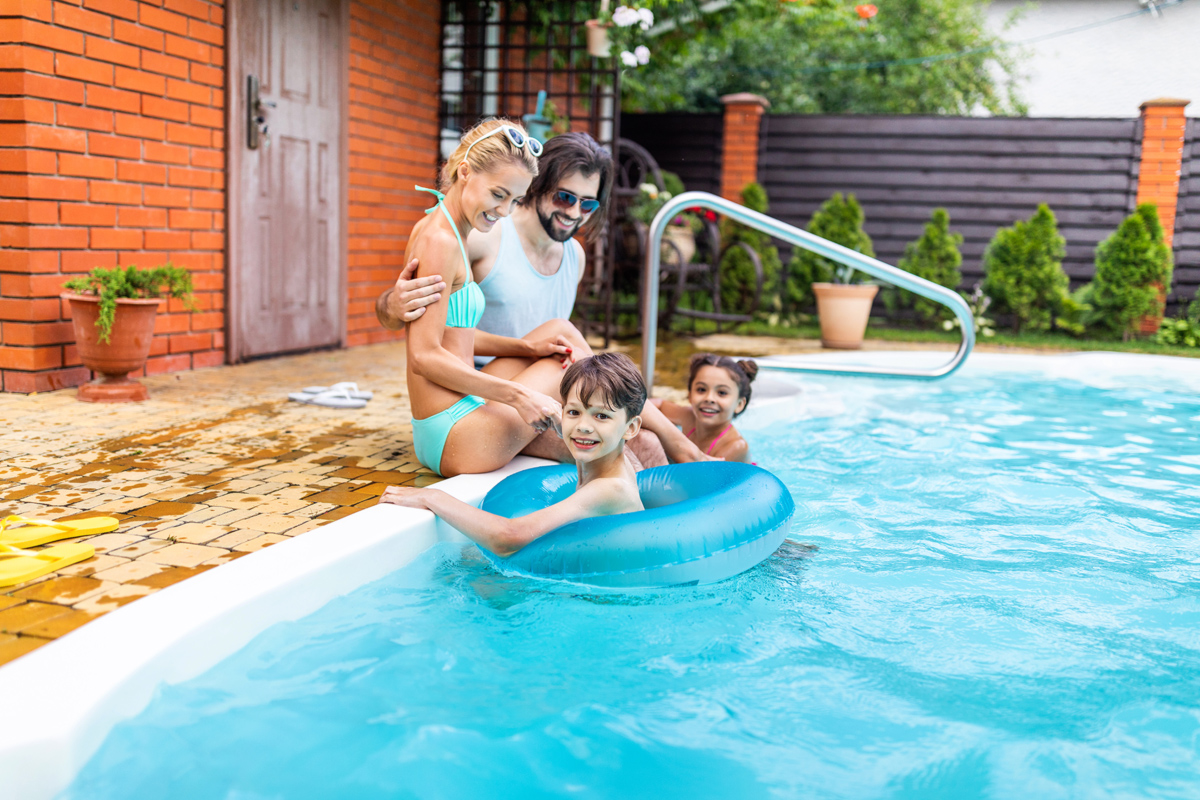 Standard pool dimensions typically measure 10 x 20-foot, 15 x 30 and 20 x 40, with a depth of 5.5 feet. An area measuring 10 x 20 is considered a small in-ground pool, while 20 x 40 is one of the larger pool sizes, according to PoolsBySignature.
Average Backyard Pool Sizes
A smaller rectangular pool measuring 12 x 24 that reaches 5-feet deep typically holds up to 10,800 gallons of water. A larger 16 x 32-foot pool with 5-feet in depth can hold 19,200 gallons of water. A 20 x 40-foot pool can hold nearly 30,000 gallons of water, on average. 
Of course, not every homeowner will want a rectangular backyard pool. It's vital to consider the shape of the pool you desire for your home. Shape will usually determine how big or small your pool area will be. This will be determined by the size of your backyard, in most cases.
How Will You Use The Pool?
How you intend to use the pool will also play a role in determining what size works best for you. For instance, if you plan on swimming laps daily, you might want to choose a larger rectangular pool. Do you plan on adding a water slide at any point? All of these determinations must be made prior to picking a pool design. 
If you are simply looking to cool off during the hot Arizona summers, then you do not have to invest in a large pool area. If you are planning on hosting friends and family often, though, it would be wise to choose a larger pool. The size of your family will help you determine the size of the pool. Add ons like water slides or diving boards will also make it obvious that a large area is necessary. 
Pool Designs
The pool design is equally as important as the size. For example, if kids will be swimming in the water, you'll want to add a shallow area. Figure out how people will get in and out of the pool, as well. Will you be using a ladder to climb in and out of the water or build steps to make it easier to access? 
Shallow steps or even a beach entry point will make it easier to enter and leave the pool area for both kids and anyone with mobility issues. 
Pool Size Limits
Certain factors will undoubtedly limit your ability to build the largest pool possible or with the desired features. Size of the pool is the biggest factor affecting total cost. The larger the pool, the higher the cost. The construction of the area will take longer and more materials will be needed for the project.
Larger pools will also require more maintenance needs. Consider hiring a pool care company for the upkeep. The amount of space in your backyard will determine just how large your pool area will be. 
Pool Care In Gilbert, AZ
Pool Service Gilbert is a family-owned and operated business that has been serving the valley since 2004. We offer reliable and affordable pool services, including repairs, replacement, equipment installations and more! Our service area includes Ahwatukee, Chandler, Gilbert, Mesa, Phoenix and Tempe, Arizona. Contact us right here for your upcoming pool service needs! Call us at 480-748-3022 for more information.