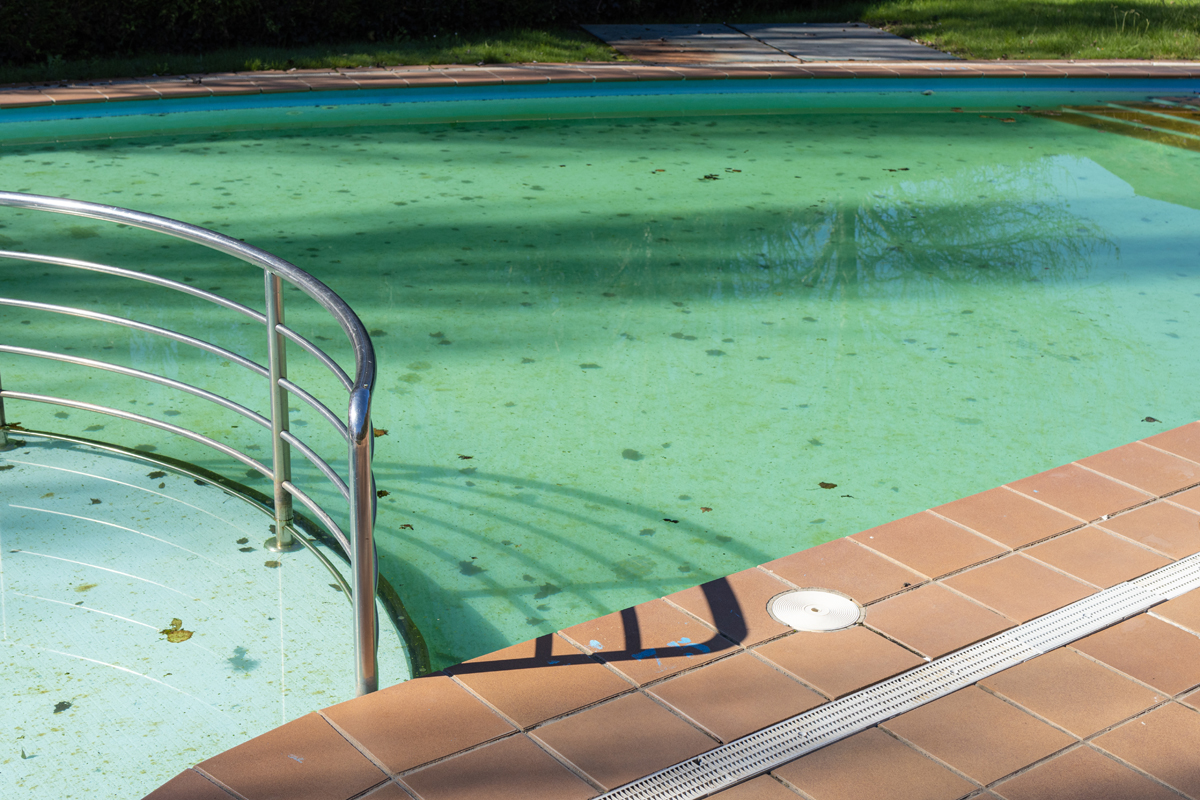 One of the downsides of owning a pool is when your water turns green. What is this and how can you fix it? Follow our guide below.
Why Is My Pool Water Green?
The green discoloration you are seeing in your pool water is a direct result of algae growth. This, unfortunately, can grow and spread very quickly within a pool. On a very hot day, commonplace in Arizona, a small algae infection can escalate quickly. Typically, an imbalance of chlorine is responsible for starting the algae growth.
Whenever the chlorine levels drop for just 24-48 hours, a green pool can be created. Therefore, checking the chlorine levels frequently is essential for any pool owner. The good news is it's not too late if your pool is already green! Fixing this issue can be quite easy, just make sure to follow our guide to a tee. 
How To Fix A Green Pool
Use the steps below to return your pool to its sparkling blue color:
Step 1. Vacuum The Pool To Waste
Begin by removing all algae and debris from your pool area.
Vacuum the pool to waste.
Do this by setting the valve on the filter to waste.
Remove as much algae and sediment from the pool floor as possible.
Step 2. Brush Pool Floor And Walls
Use an algae brush for this step instead of your regular pool brush. 
A heavy-duty brush will work a lot better against tough algae spots.
Use the brush to thoroughly scrub the pool floor, walls and steps. 
Step 3. Test Water For pH And Alkalinity
Use a liquid test kit or test strips to test the pH and alkalinity levels. 
Record the numbers so you can use them for future reference. 
Record the chlorine or sanitizer level, if you'd like. 
It's okay to test the water as the first step in this process.
Step 4. Shock The Pool With Chlorine
Shocking the pool with chlorine will eliminate the algae.
Pool shock contains high levels of chlorine that will kill algae and sanitize the area.
Use a shock that contains at least 70% chlorine.
It's recommended to shock the pool twice.
Step 5. Run The Filter
Turn the filter on without turning it off until your water is completely clear. 
Run the filter for at least 24 hours to get all the dead algae out of the water.
Make sure the shock has fully dissipated. 
Step 6. Test, Balance, Test
Once the pool water has completely cleared up, test the water for pH, alkalinity and sanitizer.
Add chemicals to balance the water out, if needed.
Test it one last time to ensure it is safe to enter the water again. 
Pool Care In Gilbert, AZ
Pool Service Gilbert is a family-owned and operated business that has been serving the valley since 2004. We offer reliable and affordable pool services, including repairs, replacement, equipment installations and more! Our service area includes Ahwatukee, Chandler, Gilbert, Mesa, Phoenix and Tempe, Arizona. Contact us right here for your upcoming pool service needs! Call us at 480-748-3022 for more information.