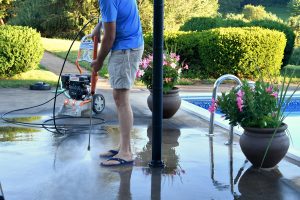 Acid washing can be a necessary part of owning a pool. This is a cleansing process that is performed on a plaster tool or pebble tec to remove a thin layer from the surface. This layer often contains unwanted calcium deposits and other troublesome stains. Here is a step-by-step guide on how to acid wash your pool.
Acid Washing Steps
Here is a quick list of steps to acid washing a pool:
Drain your pool completely.
Combine 1 gallon of Muriatic acid with 1 gallon of water in a bucket.
Completely saturate one pool wall with a hose.
Pour acid mixture on the pool wall (top to bottom) in 10-foot parts, leaving acid on the plaster for 30 seconds.
Rinse this section quickly and thoroughly.
Neutralize the pool area by using soda ash.
First and foremost, make sure you are protected before you begin acid washing the pool. You are working with chemicals here, so wear the proper clothing, which should include a mask, goggles, boots and gloves. Begin the process by completely draining your pool, cleaning up any leftover debris from the surface, if needed. Once your protective gear is on and pool is clear, it's time to mix up your combination of acid and water. The acid needs to be added to the water; never the other way around.
When saturating one of the pool walls, be sure the hose you are using does not have a nozzle on it. The water needs to be flowing constantly during this step. Pour your mixture in 10-foot segments, scrubbing and cleaning the pool surface simultaneously. Be sure to completely rinse the area that you just acid washed after 25-30 seconds. You want to rinse this quickly to prevent the acid from eating away at the plaster. The acid washing process will generally result in a puddle of residue on the bottom of the pool. This residue needs to be removed as well before it begins to deteriorate the plaster.
Why Acid Wash Your Pool?
Pool owners may still be wondering why acid washing is a necessary evil in the cleaning season. Magnesium or copper stains can cause discoloration in plaster, turning any white coloring to blue. Calcium deposits can also cause discoloration. And many times these deposits and/or stains can not be removing by simply scrubbing the surface. Acid washing is a necessity when you want to completely cleanse your pool of any troubling growths or stains.
How Much Does Acid Washing A Pool Cost?
On average, acid washing a pool costs $202, with a price range of $178-$225, according to Improvenet.com. These prices are based on a pool measuring 500 square feet.
Pool Service Gilbert In Gilbert, AZ
Pool Service Gilbert is a family-owned and operated business that has been serving the valley since 2004. We offer reliable and affordable pool services, including repairs, replacement, equipment installations and more! Our service area includes Ahwatukee, Chandler, Gilbert, Mesa, Phoenix and Tempe, Arizona. Contact us right here for your upcoming pool service needs! Call us at 480-748-3022 for more information.
More Articles About Pool Care