Pool Pump Repair Near Me – Gilbert, AZ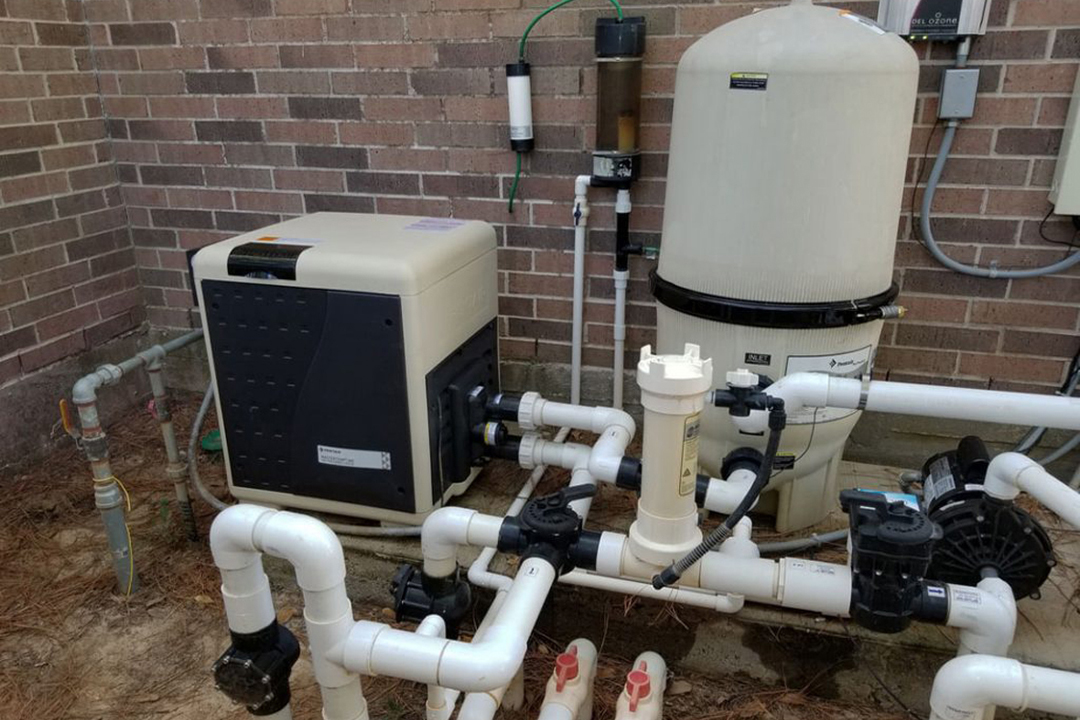 Performing regular maintenance on your pool and surrounding areas is necessary for the longevity of your backyard relaxation station. Unfortunately, though, pool owners do report issues with their pumps over time. If you are looking for "pool pump repair near me," then Pool Service Gilbert has you covered!
Signs A Pool Pump Has Gone Bad
Rumbling noises
Grinding sounds
Nearly ten years old
Water leaks
Bubble build-up
There are five obvious signs to look for when it comes to pool pump repairs, listed above. Rumbling noises should be noticed right away. Excessively-vibrating pumps will create sometimes loud and consistent noises. The most common reason for the noise is a pump coming loose or dislodged. Get this issue fixed right away before it becomes a larger problem. The good news for pool owners is this issue won't require a costly repair.
Grinding sounds can be confused as rumbling at first. But, there is a big difference between these various sounds. Grinding means your pump needs new bearings. Older bearings can lead to motor overheating. Bearings are typically cheap, but replacing them requires opening the pump. This is a task best left to the pool service professionals.
Even a well-maintained and routinely checked pump will wear out over time. These pool pumps can last between 8 to 12 years. However, many pool owners may notice failure at an earlier age. If your pump is getting up their in age, it's time to start thinking about repairs and/or replacement.
Bubbles in your pool water may seem innocent, but this is not a good sign at all. Bubbles are a clear indication of an air leak in your pump. Dirty water can result from an air leak and can pose numerous health hazards. Have a pool cleaning service check this issue out immediately.
Pool Pump Replacement Cost
Owning a pool involves routing maintenance, comprising of repairing the pool liner, repairing the pool heater, and replacing the pool pump. Your pool pump is a vital component of the pool's filtration system, and as time goes on, they wear out. On average, higher quality pool pumps should be replaced every 8 to twelve years. If you do it yourself it includes the cost of the replacement pool pump, which could run from $150 to $800 or more subject to the kind of pump. When you hire a professional, the cost includes the cost of labor, that is an added $80 to $200.

Replace the Pump Or Motor?
If the pool pump is somewhat new (ten years old or less) and the exterior of the pump does not show indications of degradation, just replacing the motor could be a good idea. When the pump has some age to it, and the motor replacement parts are exhausting to track down or when the cost of the motor replacement is higher than 75% of the cost of a total pump replacement, total pump replacement is the route you should take. If the pump is still under its warranty, then totally replace the pump. Motor replacement is a lot less expensive than replacing the entire pool pump. Replacing the pump yourself costs somewhere between $25 to $200, whereas hiring a professional could cost an additional $40 to $100.
Pool Pump Repair Service
If you are searching for "pool pump repair service" anywhere in the Phoenix valley, then look no further than Pool Service Gilbert! Since 2004, this company has been providing exceptional customer service to residents all over the valley of the sun. One of the many services includes pool pump and motor repairs.
The professionals at Pool Service Gilbert can repair any pump, regardless of the make or model. This rather inexpensive repair comes with an inspection of the pump or motor ahead of time. Repairing your pump or motor immediately will save pool owners money in the long run. In addition to pumps and motors, Pool Service Gilbert can also repair any seals, gaskets, impellers or electric components in need of service.
Pool Service Gilbert
Pool Service Gilbert is a family-owned and operated business that has been serving the valley since 2004. We offer reliable and affordable pool services, including repairs, equipment installations and more! Our service area includes Ahwatukee, Chandler, Gilbert, Mesa, Phoenix and Tempe, Arizona. Contact us right here for your upcoming pool service needs!
More Articles About Pool Care