How Much Does A Pool Cost In Arizona?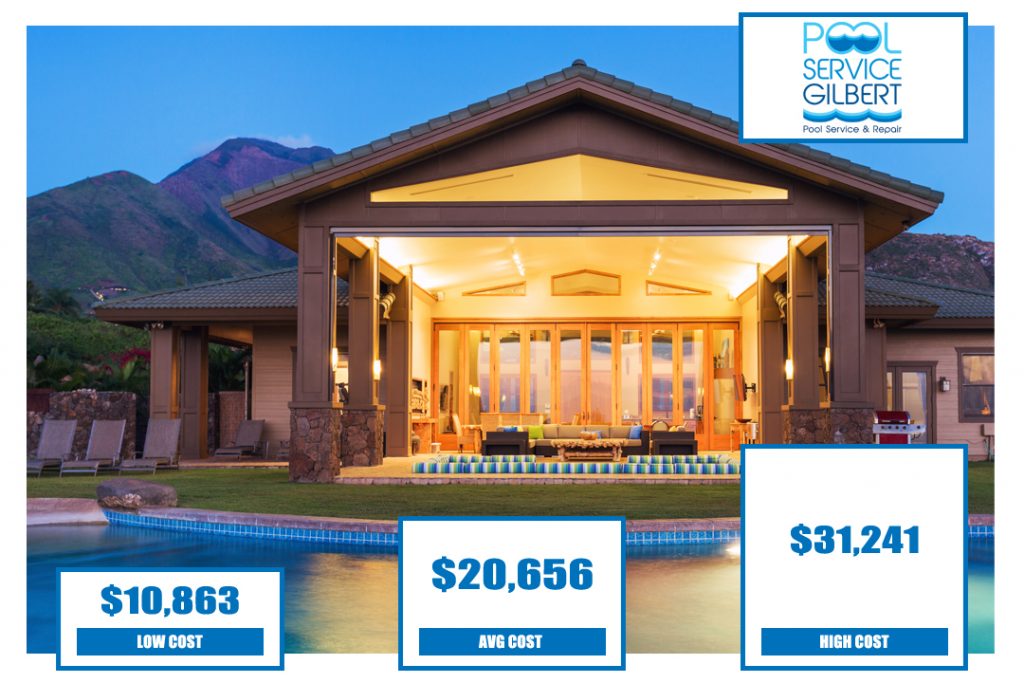 The average price to install an inground pool in Arizona is $20,656. Costs will range from $10,863-$31,241 in Phoenix, AZ, according to Homeadvisor.
However, there are several different factors that could influence overall costs.
How Much Does A Pool Cost?
Inground pools will generally cost more to install than an above-ground pool. Above-ground models will cost anywhere from $700-$3,600. Custom pools will, of course, cost more than any other models, with prices going upwards of $100,000. Always compare quotes from local pool suppliers to receive the best deal possible.
Pool Cost Factors
The first factor that could inflate the bottom line is exactly how much it will cost for construction of the pool area. That very much depends on the type of material the installers are working with. For instance, fiberglass will cost between $20,000-$37,000, while concrete construction costs anywhere from $35,000-$65,000.
Building an above-ground pool can be considerably cheaper than an inground model. The building of the above-ground pool will run between $1,500-$15,000. The above ground pools will not add the same value to your home as an inground pool will, though. Plus most homeowners prefer the look of inground pools.
Perhaps you are still thinking about whether you should invest in a lap or endless pool. With labor costs, lap pools run between $40,000-$60,000. Endless pools tend to be much shorter than lap pools, and cost approximately $23,000-$40,000.
Inground Pool Costs In Arizona
Total costs for inground pools will very much depend on materials used for construction. These are typical prices based on material:
Concrete: $50,000-$100,000
Vinyl Liner: $25,000-$65,000
Fiberglass: $40,000-$85,000
Saltwater Vs Chlorine Pool Costs
Saltwater pools come with heavy upfront costs, including the installation of a saltwater generator. This costs between $400-$1,800. Installation fees could tack on an additional $400. Yearly salt and chemical costs could total $100. Meanwhile, chlorine pools could require up to $800 per year in chemical costs.
Pool Costs By Location
Are you looking to compare pool costs in Phoenix, Arizona to other big cities in the country? Here are a few average costs:
Miami, Florida: $17,550-$38,600
Dallas, Texas: $12,000-$28,200
New York, New York: $17,000-$33,700
San Diego, California: $15,300-$36,900
Las Vegas, Nevada: $22,300-$135,000
All average costs are according to Home Advisor.
How Much Does A Pool Cleaning Service Cost?
The average pool service costs in the Phoenix, AZ area range from $85 to $125 per month. Typically, any pool owner can expect to pay around $105 per month for cleaning services. Use this post to help determine a budget for any upcoming pool services you may need in the future.

Pool Service Phoenix
Pool Service Gilbert is a family-owned and operated business that has been serving the valley since 2004. We offer reliable and affordable pool services, including repairs, equipment installations and more! Our service area includes Ahwatukee, Chandler, Gilbert, Mesa, Phoenix and Tempe, Arizona. Contact us right here for your upcoming pool service needs.
More Articles About Pool Care